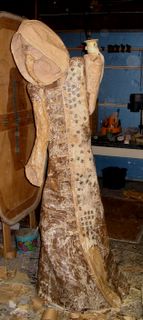 As I twisted and taped newspaper on, snippets of text began to catch my attention, strips of tragedy and superficiality one over the other, one over the other. I finally felt myself falling into the rhythm of the sculpture.
I was hearing the incredible voice of Lisa Gerard, and wrapping long, wet strips of heavy paper around and around the frame and everything about this figure became strikingly clear.
This kind of visualization is the pinnacle of the creative process for me. These moments can be very intense. I've considered several times creating a sculpture on site as an art exhibit. It occurs to me tonight, as I write about it just after, how personal the experience can be. I have to wonder if I were doing this as a performance piece, if that moment of clarity would be recognizable to those watching-- would it show on my face? or even if I'd be able to get to this level of creativity in that environment. Pete suggests working in an isolated room with a monitor in the art show. Then I could have the impression that I was alone.
Interesting to consider. Another day.
But tonight, in the studio I was alone, then I wasn't. I recognized exactly who I was conjuring here. I know his texture, his shape, his weight, his posture, his energy, his history and most of all, his name. I can imagine his scent, follow the turn of his head, hear the scraping of his feet and the whisper of his voice.
I've known this fellow for a long time, I think.
I'm going to leave this here, for now. Tomorrow I'll show you something entirely different, while I work uninterrupted. I'll keep taking photos, and will post them all at once….maybe on Monday.
Oh, and I'll tell you his name too…
G'night
TEN