Hello everyone, Ravyn here with a little shameless Foppet promotion :-)
Things have been quiet for me on the Foppet front, mainly cause i'm still working on my house in between working on work. (Um and almost destroying my right shoulder in the process, ouch!) But a friend of mine asked for my help, and it has lead to a special Foppet.
Some of you familiar with the podcasting community have probably already heard of the sudden death of Tee Morris' wife Natalie, leaving behind Tee and their 5-year-old daughter Serena (a.k.a "Sonic Boom"). My own involvement with the podcasting community goes back to 2005, when i chaired my first Balticon (39), and my good friend Paul Fischer suggested we do a Balticon Podcast. It's since been my pleasure to get to know such a warm and generous group of people.
Which brings me back to Foppet. An auction is going on right now to raise money for Sonic Boom's future. All the details can be found here on
The Boom Effect
site. During my talk with Paul, the idea for a SONIC BOOM Foppet solidified in my head, and soon after that, i started painting her.
When i mentioned my idea to Paul, he said it would have to be LOUD to be a SONIC BOOM. i told him, it just has to be loudly PAINTED....
So here she is, a flaming fireball of a Foppet: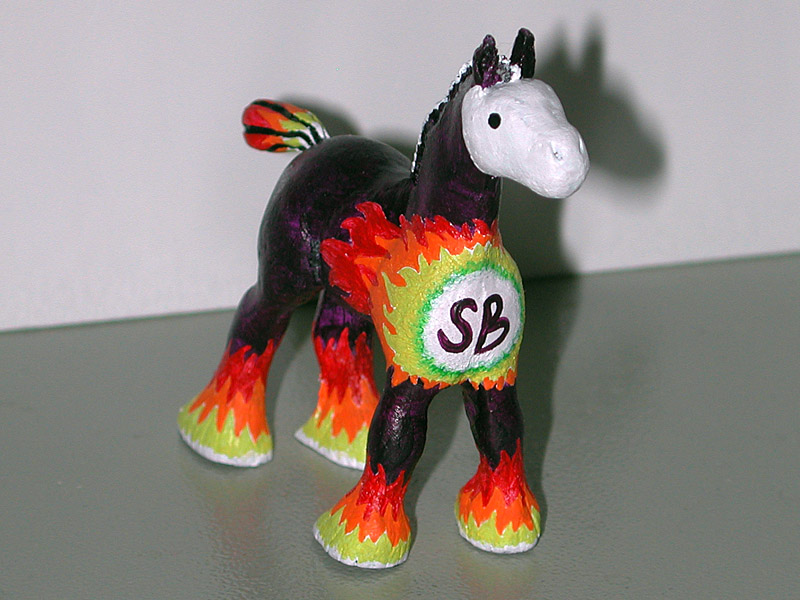 For some reason the photo makes the bright yellow look more like mustard, but it really is a bright glowy yellow.
SONIC BOOM FOPPET's listing
gives a few more details, including the current proxy bid which stands at a mere $20. SONIC BOOM is one of a very few OOAK Foppets released into the wild without a matching Poppet companion (though i may be updating the listing to add a classic Little Red Poppet to it, courtesy of Lisa).
The auction ends this Saturday, so please check it out!